Catering Weddings, Corporate Events, Holidays Parties, Graduation Parties, and more.
Weddings: Wedding "season" is always upon us and what better way to celebrate than with delicious food and exceptional service provided by John Marshall Catering.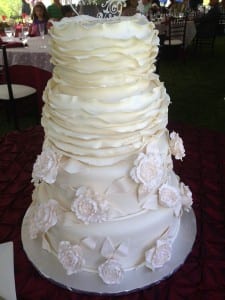 There's enough going on at a wedding without having to worry about all the details of such a momentous occasion. At John Marshall Catering, we know the importance of having a celebration that will be remembered fondly for a lifetime. With John Marshall Catering at your side, you can forget the details and enjoy yourself. We'll handle everything – the food, the rentals, the set-up and the breakdown.
At John Marshall Catering, we begin by spending time with you in person. We'll listen to you, get to know you, and make sure we understand exactly what you want and then design an event that reflects your vision and fits your budget. Provide us with a color scheme or let us help you choose one. Select the flowers you've dreamed of, or let us help you make that dream a possibility. Give us as much or as little direction as you like. It's your celebration, and we're your unwavering partners. We pride ourselves on designing delicious custom-tailored menus to fit your wedding to a "T." If you'd prefer an elegant wait staff, we will provide passed hors d'oeuvres or create a station for your guests to help themselves. We can create a family style sit-down dinner, or arrange a grand buffet. We'll do whatever it takes to fit any surroundings, any season or any cuisine. We'll even set up an intimate custom sampling of menu items for you at our office, complete with china and linen to give you an idea of the quality service we pride ourselves on.
We ask that wedding receptions be scheduled at least 4-6 months in advance, if possible. Our company works with a simple contract for weddings, and we ask for a non-refundable $500 deposit to reserve the date. Along with your reception, weddings also include bachelor and bachelorette parties, rehearsal dinners and showers. We'd be glad to help you with every celebration leading up to the greatest day of your life, stress-free!
Whatever you're planning, John Marshall Catering will come through with everything you need to make this once-in-a-lifetime experience a thoroughly satisfying event.
Tastings: Tastings are highly encouraged for weddings and are free of charge for the future bride and groom. For additional guests, a small service charge in the amount of $25 per person will be applied. For all other events, tastings are offered but a service charge will be applied for each attendee and must be paid at the time of the tasting. Tastings can be scheduled with the office manager at 724-444-1384, Monday-Thursday, with some occasional weekend availability.
Tastings must be scheduled at least 1 week in advance and are held at our shop located at 5950 William Flynn Highway, Bakerstown PA 15007
Corporate parties: Corporate events are growing in popularity and no matter the size or occasion, John Marshall Catering is happy to bring our best to you morning, noon, or night. We'll prepare any type of cuisine and, most importantly, make sure everything runs smoothly.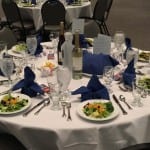 Whether you require fine cuisine to honor a lifetime of achievement, gourmet fare to fuel a high-powered executive retreat, or a "cut-above" picnic for an employee ball game in the park, John Marshall Catering is ready with the right food and a full menu of affiliated services for the occasion. From fine linens and bone china to picnic baskets and checkered tablecloths, from breakfast buffets to plated sit-down suppers, we'll provide it for you in high style and good taste at a price to fit your budget. The bottom line? When the business of your business is good taste and a memorable event, John Marshall Catering is ready to serve.
Corporate events require a non-refundable $150.00 deposit that will be applied to the total balance at the time of the event.
Graduation parties: Graduation parties are a time of congratulations for young men and women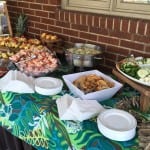 and John Marshall Catering is here to service all your party planning needs. These events require a non-refundable $150.00 deposit that will be applied to the total balance at the time of the event. We ask that graduation parties are booked at least 1 month in advance – we cannot guarantee availability until you have spoken to a team member of John Marshall Catering and a deposit is received.
Holiday parties: Everyone wants to host in style during the holidays and you are sure to be the talk of the season among your guests with service by John Marshall Catering. We are one of few companies open every day of the year, offering pick-ups on many major holidays including Thanksgiving, Christmas Eve, New Years Eve and Easter. If you are hoping to celebrate a few days early, our full staff will be available to personally provide you with a scrumptious meal and/or appetizers. These events require a non-refundable $150.00 deposit that will be applied to the total balance at the time of the event.
Tailgates: Tailgates are a must around the 'Burgh and who better to serve you up some hometown favorites while cheering on your team than John Marshall Catering. Featured in AOL's The Patch in early 2011 for his tips on whipping up the perfect Superbowl meal, John Marshall Catering is available for private tailgates. If you'd prefer to join John at his weekly Steelers tailgates, they are held in the parking lot across from Greybar (900 Ridge Avenue, Pittsburgh 15212) in the heart of the North Side and only minutes from Heinz Field. A small fee is required to enjoy the delectable down-home food to pump you up for a great day of football! If you choose to host a private event, a $150.00 deposit is required that will be applied to the total balance of the time of the event.
Donations: Donations are always a great way to raise money for your cause or reduce your spending for an event – John Marshall Catering is a proud sponsor of organizations such as American Heart Association, Big Brothers/Big Sisters, Boy Scouts, Crisis Center North, Cystic Fibrosis, Civic Light Opera, Special Olympics, and many other local and national foundations. If funds are available, John Marshall Catering will gladly donate cooking classes, tailgates, food items, and non-perishable products. Though Marshall enjoys supporting those who need it most, we cannot guarantee donations to all those who send in requests.
Hoagie Fund Raisers: Italian and turkey hoagies are available for pick-up or delivery. Hoagie orders must be in one week before the scheduled pick-up date.
---
Sales tax and labor charges are applied to all parties in addition to the price per person cost*
*Additional charges may apply, including but not limited to a $50 grill set-up fee for all tailgates and picnic events and/or a delivery charge.